More Information
Why are Sunbridge Road Mission building a new building?
In short to make space for what God is doing. There is both a push and a pull in this. The push is the reality that our current building is very tired, and the pull is the desire to generously invest in a building that will be a blessing to many in the generations to come.
In God's grace our church family is full of life, diversity, and vision but you wouldn't know that if you walked past the building. After 130 years it is no surprise that the building needs repair but the fact that it was originally formed by knocking through 6 back-to-back cottages limits how much refurbishment can accomplish.
Whilst in one sense we could continue to make do as a church family for a few more years, our heart as a church has always been to generously share the love of Jesus with those around us. A new building would provide a welcoming, practical, and accessible space that will be a blessing to those we serve for many generations to come.
Whilst we are a gathered church made up of people who live all over the city, we are still committed to our original mission to be a gospel witness at the heart of Bradford. We are on the boundary between the City Center and Manningham which remains an area of significant social and spiritual need. This new building has been designed so that it can be a continuous presence in the area with an open door to the community throughout the week, whether that be people living in the growing number of residential blocks in the area, university students from the nearby campus, or those struggling with homelessness and addiction.
The vision behind this project is to make space for what God is doing. In Isaiah 56:8 the LORD declares to his people,
"I will gather still others to them besides those already gathered."
It is a reminder that God's vision is big, forward looking, and focused on outsiders which is our heart with this new building.
What will the new building be like?
We have bought a plot of land on Sunbridge Road just across from our present site with space to construct a two-story building with sufficient car parking.
The street level entrance will take people straight into a community space consisting of a large open multi-purpose area, kitchen, and meeting room behind which will be toilets, storage, and staff offices. This will be our front door throughout the week allowing us to welcome people living nearby: whether students from the university, those struggling with homelessness and addiction, or some of the many people moving into residential properties in the city center.
This multi-purpose space could be enjoyed by people meeting for a coffee, larger community meals, youth nights; focused courses, music events, or even opened up as a café or hired out for community functions.
The lower floor is accessible from the car park and will be the main entrance on Sundays with the lobby leading into a main auditorium, kids wing, conference room, and toilets. The auditorium will seat over 300 people which gives plenty of space for the church family to gather together and provides a venue to host conferences and events for the wider area.
It's important that this building is a space the next generation can call their own. The kids wing will have the flexibility to be opened up as one big space or split out into smaller rooms providing an excellent space for Kid's Church on Sunday as well as groups during the week.
Architects Drawings
Architects Video
How much money do we need to raise?
The construction of this new building will cost £2.3 million. This doesn't include the land which has already been purchased. Many in the church family have already given very generously which means that we're over half-way there with £1.19 million already raised. As well as individual gifts this includes assets we intend to sell and 300k pledged by grant giving foundations.
This means that we still need to raise £1.11 million in order to complete this project.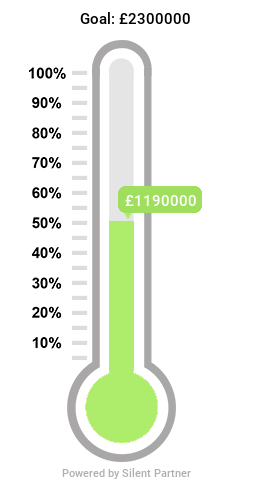 How can I be part of this project?
This is an ambitious project for us as a church which means we're going to need lots of people to get involved and invest generously from the resources God has given them. We'd love you to be involved, whether through a one-off gift or a regular monthly payment.
Giving a little bit each month can really add up. Over the 3-year fundraising window which starts in Autumn 2021 giving £20 monthly adds up to £720, £50 monthly adds up to £1800 and £100 monthly adds up to £3600.
If you would like to contribute there are two easy ways to give:
ChurchSuite
Use the button below to take you to the payment page.
Bank transfer / Direct debit
Our bank account details are below. If you're eligible to claim gift aid please click the button below and return a signed copy of the Gift Aid form. If you'd like to opt out of the Building Tithe, it would be helpful if you could email our treasurer (andrew@sunbridgeroadmission.org.uk)
Name: Sunbridge Road Mission
Sort Code: 20-11-81
Account: 30055581
Reference: MS Surname
---
Tithing
As part of our fundraising we continue to give 10% to other building projects in contexts with less resources through our Building Tithe. You can find out more by clicking the button below:
You can opt out of the building tithe if you'd prefer but we see it as an opportunity to be generous and remember that the work the Lord is doing is far bigger than Sunbridge Road Mission!
---
Fundraising
There are many activities you could do to fundraise for us, like: a sponsored run, bike ride, danceahthon, karaoke night, silence…'
Please set up a fundraiser page by clicking on the just giving button below.
Let us know what you are planning so we can support you in it.
If you'd like to find out more about Making Space you can sign up to our termly updates using the link at the top of this page. If you would appreciate a conversation with one of the building committee please get in touch with the committee secretary to arrange that:
Judith Wolstenhulme (office@sunbridgeroadmission.org.uk)